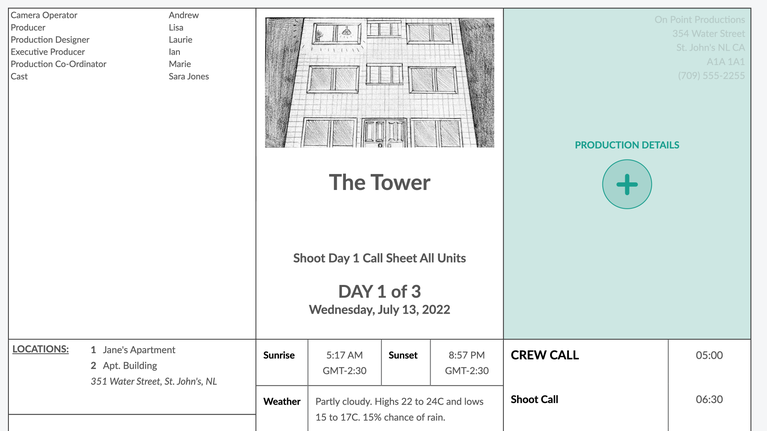 Call sheet template download
Call sheets are your production's marching orders. You can't start filming until every member of your cast and crew has one in hand.
Celtx provides free downloadable templates that look professional, keep your team informed, and help ensure that your shoot runs smoothly.
The call sheet is the single most important production document. Usually the responsibility of the assistant directors (ADs), they are issued before the start of each shooting day.
Things don't always go according to plan on a shoot, so call sheets are often changed at the last minute. Using a template to create call sheets will help you speed up this time-consuming process.
DOWNLOAD YOUR FREE CALL SHEET TEMPLATE NOW!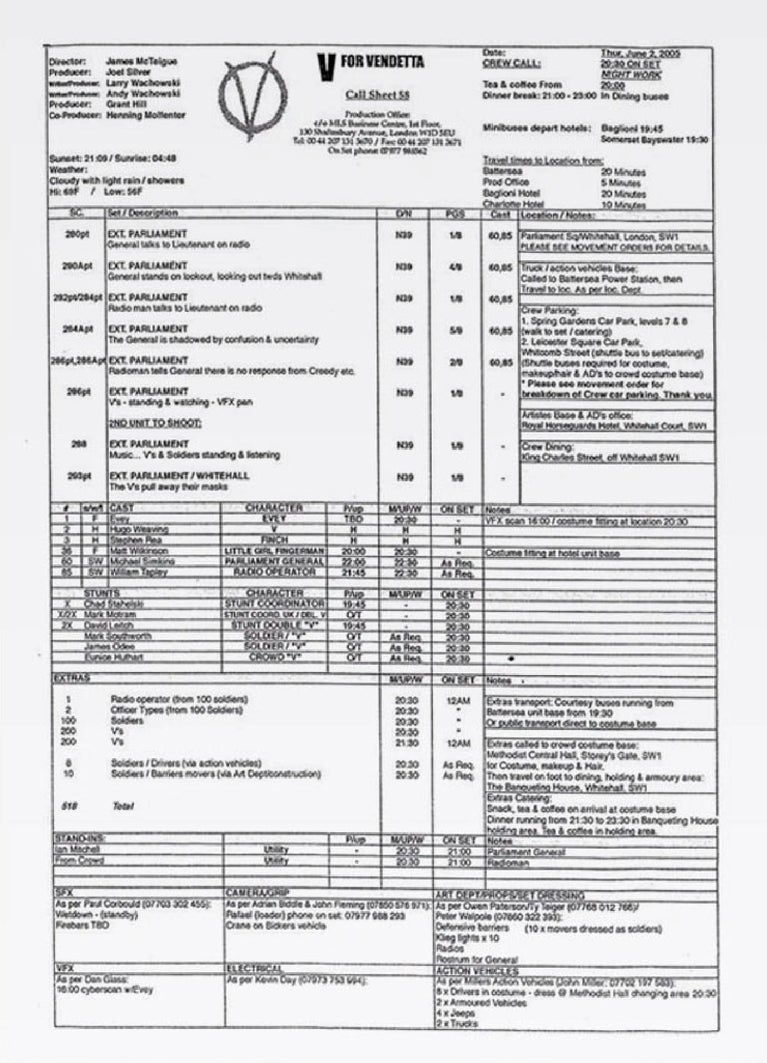 V for Vendetta Call Sheet sample c/o FilmLocal
Sample call sheets
Here's a call sheet example from a feature film production. No two production's call sheets will look exactly alike, but they all contain the same critical information:
Key Contact Information
This includes phone numbers for department leads and production executives.
Call Times
This tells your cast and crew when and where they need to arrive to begin the day's shoot.
Weather Forecast
Weather can make or break a shoot. This helps your crew be prepared with proper apparel.
Set Locations & Information
Your cast and crew needs to know where they're shooting, where they can park, where they can hang out between takes, and so on.
Shooting Schedule
This describes what scenes are being shot on a given day, and in what order.
Cast & Crew
Grids This provides names and individual timings for everyone on set. For cast members, this includes pickup, hair & makeup, and blocking times. Crew information will be broken out by department.
Radio Channels
This will let your crew know which frequencies they should use on their walkies to reach specific departments.
Emergency Information
It's important to always have contact information for local emergency services, as well as directions to the closest hospital.
What is a call sheet template
Our templates for call sheets include ready-to-use fields for all important shooting information. Generally speaking, call sheets are broken into four overarching sections.
The first section of the call sheet contains critical production information: what's the name of the project? Who is in charge at an executive level? Is this the first day of the shoot, or the second? What's the general call time? This information should always be at the top.
The second section of the call sheet template covers the Where & When of the shoot. Where is the shooting location? Where does the crew park? What time should everyone show up for work? When's lunch? Extra information pertaining to the location of the shoot, such as local weather forecasts and the location of the closest hospital are put here too.
The third section of the call sheet template covers the What. What scenes are being shot today, and in what order? Which actors are required? How many pages of the script will be covered?
This information is organized in a shooting schedule. It will help your crew get an idea of how long the day will be, and what is going to be required to execute each scene.
The fourth section of the call sheet template covers the Who. Who's in working today? Who is in each crew department? What are their individual call times? Will there be background actors? Daily hires? What's their contact information? All of this information is organized in the crew grid, which is organized by department.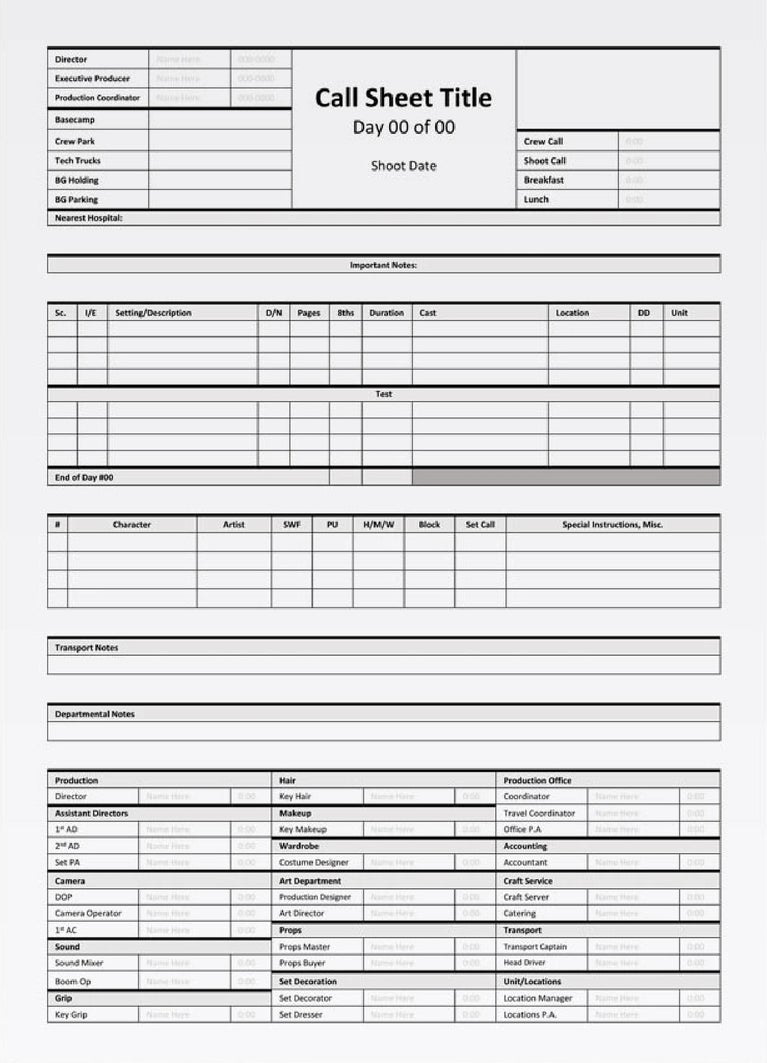 Free call sheet templates
Call sheets require that a great deal of information be presented in a concise, short, and legible document.
Our call sheet templates are professional in appearance, and help you save time by providing you with pre-defined fields for all the information you'll need. All you have to do is fill in the details and distribute.
If something happens that affects your shooting plan, the templates can be quickly updated and redistributed to your crew. When doing this, it's important to make note of a version change in the call sheet title. If you have to change the call time, it's helpful to indicate a push (meaning the call time is now later) or a pull (meaning the call time is earlier).
DOWNLOAD YOUR FREE CALL SHEET TEMPLATE NOW!
How to use a call sheet
When finalizing your call sheet, here's a helpful checklist you can use to ensure that it's ready to distribute.
Are the date, shooting day, and call time accurate?
Do you have the names and contact information for key personnel prominently featured?
Is the weather forecast up to date?
Are all location addresses listed?
Are all cast members required for your day's scenes scheduled and accounted for?
Are all required crew members listed in the crew grid?
Are any special notes or announcements required?
Using our free call sheet template will help ensure that each of these questions is answered when you're ready to go to camera.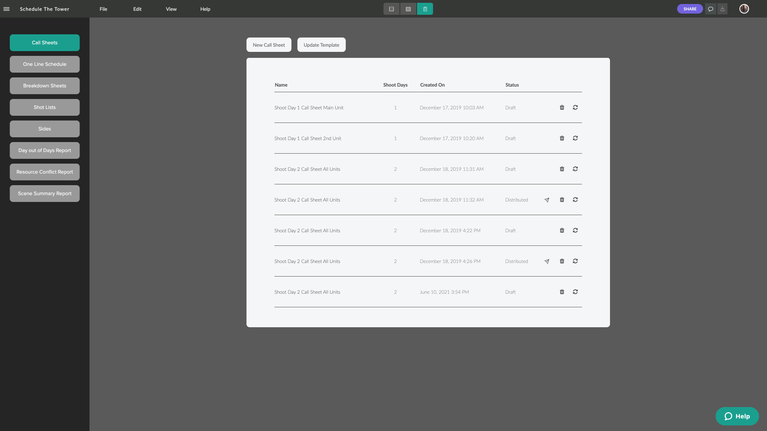 How call sheets save you time
Careful planning is the most important aspect of any filmmaking effort. Having an accurate, readable, easy-to-distribute call sheet ensures that your planning does not go to waste.
By using a call sheet template, you'll make sure that every member of your cast and crew know exactly when and where they need to be at all points of the shooting day. They'll know in advance what will be required for each scene, and they'll be ready to move on quickly to the next step in the shooting process.
Free call sheet template in multiple formats
Our Call Sheet template can be used across different platforms.
We understand that most users don't have access to expensive call sheet programs. So we've focused on providing a template to be used on the most popular and accessible applications on the planet.
Having a call sheet at your fingertips gives you the power to flesh out details for whatever project you have going on in your life. Best of all, our template is available to download for free! Check our template today and get started with your call sheet with a click of a button.