Pre-Production features
Cut out the paperwork
The traditional method of creating script sides takes a lot of patience and paper. Automate the process with Celtx and instantly generate and distribute accurate sides to your cast and crew. Celtx's script sides shares dialogue and details to keep everyone on the same page.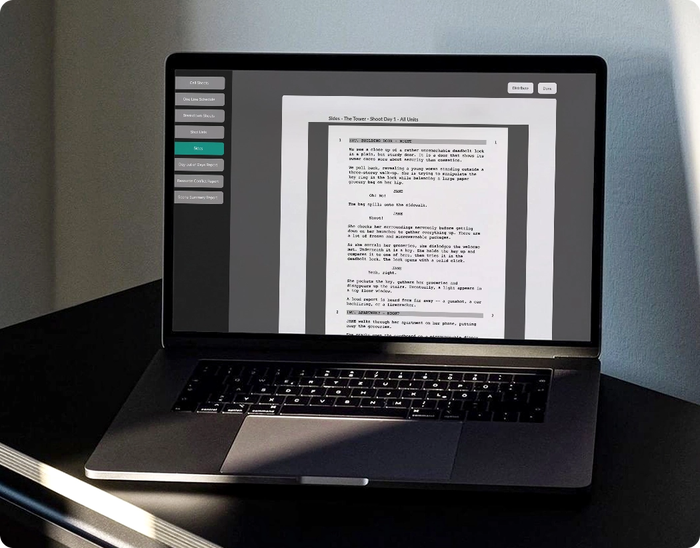 See Celtx's script sides in action
How it works
Celtx offers flexibility in generating and distributing script sides. Once you've arranged your shooting schedule, you can easily generate daily sides from your schedule or use the wizard to create them from your script.
Open Your Schedule

Create, distribute, and print your script sides directly from your shooting schedule.

Create a Script Side

Celtx references information stored in the Celtx studio when generating your script side – no need to retype data into the studio!

Organize Scenes Automatically

Celtx organizes the required scenes in shooting order for each day of your shoot.

Distribute Sides

Print, email, share, or distribute script sides as a PDF to cast and crew members.
Tools for every stage of production
The Celtx studio guides you every step of the way with integrated tools and features.
Writing
Script Editors
For film & TV, and theater.
Episodic Projects
Keep your scripts organized.
Automatic Formatting
Write to industry standards.
Story Development
Beat Sheet
Visualize your story structure.
Storyboard
Bring your script to life.
Script Insights
Set goals and stay motivated.
Pre-Production
Breakdown
Easily tag script assets.
Catalog
Organize every element in your script.
Shot List
Plan out every shot.
Schedule
Automatically create a stripboard from your script.
Cast & Crew
Track their every detail.
Sides
Easily generate and distribute to cast and crew.
Production
Budget
Track expenses and prevent overruns.
Call sheets
Dynamically generated and updated.
Reports
Get a snapshot of your shoot.
Get started today with Celtx's all-in-one studio for writing, story development, pre-production, and production.
Used by writers in 180+ countries
Over 5 million verified Celtx accounts
Used in 25,000+ educational institutions
View Plans & Pricing