Story Development features
Never miss a beat
Mapping out scenes, connecting essential plot points, developing character arcs – organizing your story's narrative structure is hard work! With Celtx's beat sheet, you can visualize your narrative structure and keep the story moving forward without missing a beat.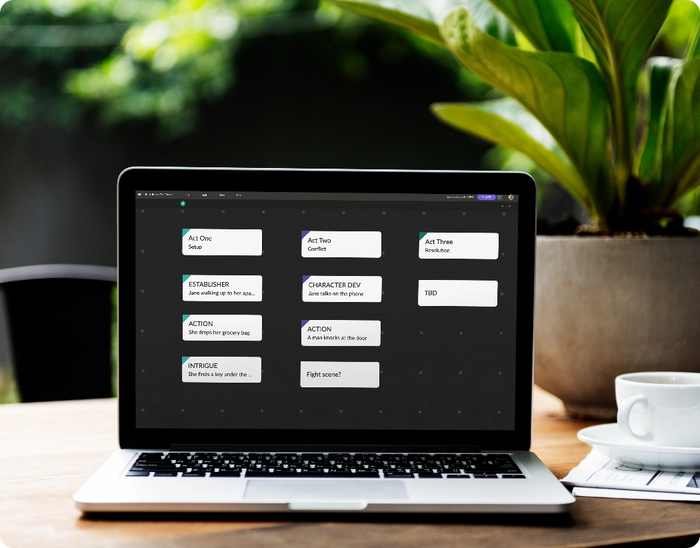 See Celtx's beat sheet in action
How it works
Use the Celtx beat sheet to organize ideas, visualize your story, and capture your story in one visual gulp.
Add Beats

Add beats to the beat sheet. Each beat can represent an idea, character, scene, or sequence.

Fill in Details

Give each beat a title and a short description. By default, each beat is assigned a randomized title to get your creative juices flowing. You can also color code your beats to help keep things organized.

Arrange Your Beat Sheet

Use drag and drop to group your beats and balance your story structure.

Collaborate

Work on your beat sheet with other Celtx studio collaborators. Share read-only links to your beat sheet, and invite users to leave comments.

Transform Beats Into Script Scenes

Turn your beats into scenes within your Celtx script. Beat titles become scene headings.
Tools for every stage of production
The Celtx studio guides you every step of the way with integrated tools and features.
Writing
Script Editors
For film & TV, and theater.
Episodic Projects
Keep your scripts organized.
Automatic Formatting
Write to industry standards.
Story Development
Beat Sheet
Visualize your story structure.
Storyboard
Bring your script to life.
Script Insights
Set goals and stay motivated.
Pre-Production
Breakdown
Easily tag script assets.
Catalog
Organize every element in your script.
Shot List
Plan out every shot.
Schedule
Automatically create a stripboard from your script.
Cast & Crew
Track their every detail.
Sides
Easily generate and distribute to cast and crew.
Production
Budget
Track expenses and prevent overruns.
Call sheets
Dynamically generated and updated.
Reports
Get a snapshot of your shoot.
Resources
The Celtx beat sheet feature helps you visualize your story and balance your script in a single view. Learn more about beat sheets with these resources from Celtx.
Get started today with Celtx's all-in-one studio for writing, story development, pre-production, and production.
Used by writers in 180+ countries
Over 5 million verified Celtx accounts
Used in 25,000+ educational institutions
View Plans & Pricing